Taipei -- A typhoon in the Pacific Ocean with wind gusts of 173 kph was on course to hit Taiwan late on Sunday, prompting local governments, including Taipei, to cancel work and classes on Monday and close markets.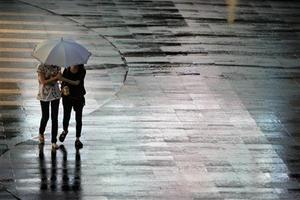 ©REUTERS/Pichi Chuang
People walk in light rain as Typhoon Fung-Wong approaches, in Taipei July 27, 2008.
Typhoon Fung-Wong, Chinese for phoenix, was moving northwest on Sunday evening, on course to make landfall early Monday in central Taiwan, with sustained winds of 137 kph, Taiwan's Central Weather Bureau said on its
website
.
The approaching storm prompted the issue of rough sea warnings as most local city and county governments announced late in the day that offices and schools would be closed on Monday. That also meant the stock and foreign exchange markets would close for the day.
Fung-Wong was moving northwest at 17 kph on Monday evening, the CWB said, classifying the storm as a mid-grade one.
Scattered rain was falling throughout the island as the storm approached and winds began to pick up.