The 2008 Atlantic hurricane season is already a month ahead of schedule, portending a rough year for tropical storms for the United States, Caribbean and Central America although most likely not a repeat of the devastating 2005 season.
On average, the fourth storm of the six-month season does not occur until August 29. This year, the fourth, Dolly, formed on July 20 and was on the cusp of becoming a hurricane on Tuesday as it churned through the oil and gas-rich Gulf of Mexico.
"It absolutely does mean something, and we should be looking at it with trepidation," said Jeff Masters, co-founder of meteorological website The Weatherunderground.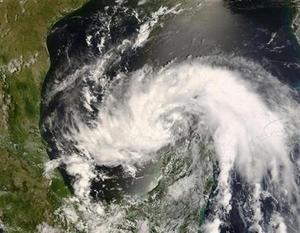 ©REUTERS/NASA/Handout
Tropical Storm Dolly is shown in the NASA satellite image taken July 21, 2008.
The Atlantic hurricane season begins on June 1 but rarely gets into gear before August.
Statistically, most seasons that see as much early storm activity as this one turn out to have more tropical storms and hurricanes than the average, said Dennis Feltgen, a spokesman for the U.S. National Hurricane Center.
"We're definitely ahead of the curve here," said Feltgen, noting that the National Oceanic and Atmospheric Administration had predicted there was a 65 percent chance the 2008 season would be more active than average.
The 2005 season produced an unprecedented 28 storms, including Hurricane Katrina, which devastated New Orleans, killed 1,500 people on the U.S. Gulf Coast, and helped push oil prices to then record levels. By July 22, 2005, six tropical storms had formed, of which three became hurricanes.
An average Atlantic hurricane season sees 10 storms, of which six strengthen into hurricanes with winds of at least 74 mph (119 km per hour). In May, NOAA predicted there would be 12 to 16 named storms this year, of which six to nine would become hurricanes.
The 1933 season was the second most active on record after 2005, with 21 storms, and 1916 saw 15 storms, of which five became "major" hurricanes of Category 3 and above on the five-step Saffir-Simpson intensity scale.
"I definitely think that the activity we have seen so far this year is a harbinger of things to come," Masters said.
DEJA VU
While memories of 2005 might be filling the heads of American storm watchers, the possibility that 2008 will equal that season's devastation is relatively remote.
Sea surface temperatures are below the levels of three years ago, which likely means fewer storms will be able to grow into monster Category 5 hurricanes. Tropical storms are fueled by warm sea water.
Wind shear -- the difference in wind speeds at different levels of the atmosphere -- is low. High wind shear tends to tear nascent storms apart. But wind shear conditions now are not as exceptionally low as they were in 2005.
In addition, Masters said, current atmospheric conditions over the Atlantic would result in storms curving away from the United States into open ocean, as Bertha, the 8th longest-lived Atlantic storm on record, did this month.
In 2005, there was little in the atmosphere to keep storms from the U.S. coast.
Ken Reeves, senior meteorologist at private forecasters
Accuweather.com
, said one couldn't read too much into the early activity. While conditions might be ripe now for storms, that could easily change in August.
Reeves said the lesson to be learned so far from the 2008 season was that the United States was most likely in the firing line, as Accuweather predicted in its preseason forecast.
Tropical Storm Cristobal grazed the Outer Banks of North Carolina on Sunday night and Dolly was expected to wash ashore on the Texas-Mexico border this week.
"We've had two out of four that have had an effect on the U.S. already," Reeves said. "We've seen a shot across our bows."