CANCUN - Tropical Storm Dolly churned toward southern Texas on Monday, and forecasters said they expected it to grow into a hurricane before hitting land near the Mexican border later this week.
The storm, with sustained winds of nearly 50 mph (85 kph), emerged from the Yucatan Peninsula over the warm waters of the Gulf of Mexico. A hurricane watch was issued for the southern Texas coast, the U.S. National Hurricane Center said.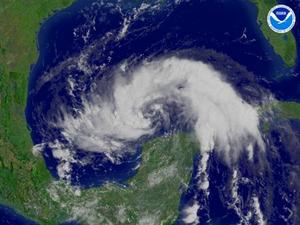 ©REUTERS/NOAA/Handout
A satellite image of Tropical Storm Dolly, taken on July 21, 2008.
Dolly was 475 miles southeast of the border, where it was due to hit on Wednesday near Brownsville, well away from sensitive offshore drilling rigs and production platforms.
The United States has largely escaped the past two Atlantic hurricane seasons, with just one hurricane -- Humberto in November 2007 -- making landfall on its coasts.
But it was pummeled in 2004 and 2005, when a series of powerful hurricanes, including the catastrophic Katrina, ravaged Florida and the U.S. Gulf Coast.
Concerns that Dolly could affect oil production from the Gulf of Mexico helped pushed crude futures higher, although dealers said Dolly appeared likely to pass south and west of the biggest concentration of U.S. platforms.
Dolly dumped rain in Cancun, home to high-rise hotels overlooking white sand beaches, and other resorts in Mexico's Yucatan Peninsula, but no major damage was reported.
The northeastern state of Tamaulipas on Mexico's Gulf coast, already flooded following heavy rains last week, issued a hurricane warning and began preparing dozens of buildings to receive possible evacuees.
Much of southern Tamaulipas was underwater after three rivers broke their banks and hundreds of families were still stranded on rooftops in the low-lying areas of Tampico, the state capital.
"We are on alert for Dolly, but the situation is already critical. We hope we don't need to do more evacuations," civil protection official Ernesto Rivera said.
Rivera said emergency relief funds were running low and the government was calling for donations of blankets and food.
Shell Oil Co began flying workers from platforms in the western Gulf on Sunday, but Mexico's state oil company Pemex said its production was unlikely to be hit.
"As of now there are no changes in the routine activities at Pemex platforms. The course of the storm is passing far away from the installations," said Javier Delgado, a local spokesman for Pemex on Mexico's coast.