A group of animal experts and wildlife officials rushed to South Africa's Kruger National Park to find out what has suddenly killed at least 30 crocodiles in the refuge within a week's time.
The first carcasses were sighted on May 27, then helicopter searches found many more littering the Olifants River, the park's most polluted waterway.
While no dead fish or other animals were found, all of the dead crocodiles contained yellow-orange hardened fat in their tails - usually a sign of eating rotten fish.
"We are in unknown territory, and we certainly don't have the answers as to why these crocodiles seem to be dying, so we need to look at the problem closely and find a solution," Danie Pienaar, head of scientific services for the park, said in the
statement
.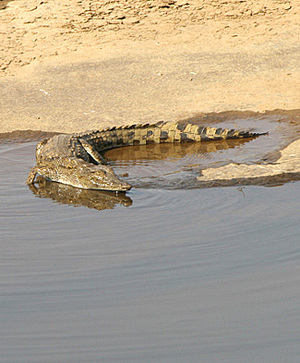 ©Grant Shimmin
A healthy Nile crocodile lurking on the bank of the Olifants River, in South Africa's Kruger National Park.
Park officials also pointed out that the Massingir Dam, which recently underwent construction in neighboring Mozambique, had pushed water back into the Olifants Gorge, causing sediment to deposit.
"Although a clear cause/effect relationship cannot be found, it is clear that the Olifants River system is strained beyond its capacity to deal with this level of stress," the park statement said.