YANGON - A powerful cyclone killed more than 350 people, destroyed thousands of homes and knocked out power in the country's largest city, state-run media said Sunday.
Tropical Cyclone Nargis struck early Saturday with winds of up to 120 mph, the military-run Myaddy television station said.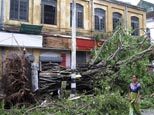 ©AP Photo/Xinhua, Zhang Yunfei
In this photo released by China's Xinhua News Agency, people walk past fallen trees at a street in Myanmar's biggest city Yangon Saturday, May 3, 2008. Tropical Cyclone Nargis ripped through Yangon early Saturday, tearing off roofs, uprooting trees and knocking out electricity.
Shari Villarosa, the top American diplomat in Yangon, said trees and electricity lines were down in the city after the storm's whipping winds and torrential downpour.
"Our Burmese staff have lost their roofs," she told The Associated Press. "There is major devastation throughout the city."
Five regions of the impoverished Southeast Asian country have been declared disaster zones.
At least 351 people were killed, including 162 who lived on Haing Gyi island off the country's southwest coast, state-run television said. Many of the others died in the low-lying Irrawaddy delta.
"The Irrawaddy delta was hit extremely hard not only because of the wind and rain but because of the storm surge," said Chris Kaye, the U.N.'s acting humanitarian coordinator in Yangon. "The villages there have reportedly been completely flattened."
State television reported that in the Irrawaddy's Labutta township, 75 percent of the buildings had collapsed.
The U.N. planned to send teams Monday to assess the damage, Kaye said. Initial assessment efforts have been hampered by roads clogged with debris and downed phone lines, he said.
"At the moment, we have such poor opportunity for communications that I can't really tell you very much," Kaye said.
Witnesses in Yangon said the storm's 120 mph winds blew the roofs off hundreds of houses, damaged hotels, schools and hospitals, and cut electricity to the entire city.
The state-owned newspaper New Light of Myanmar reported Sunday that the international airport in Yangon remained shut. Domestic flights have been diverted to the airport in Mandalay, it said.
"It's a bad situation. Almost all the houses are smashed. People are in a terrible situation," said a U.N. official in Yangon, who requested anonymity because she was not authorized to speak to the media.
"All the roads are blocked. There is no water. There is no electricity," she said.
Yangon residents ventured out Sunday to buy construction materials to repair their homes. The price of gasoline jumped from $2.50 to $10 a gallon on the black market and everything from eggs to construction supplies had tripled, residents said.
Some people expressed anger that the military-led government in Myanmar, also known as Burma, had done little so far to help with the cleanup.
"Where are all those uniformed people who are always ready to beat civilians?" said one man, who refused to be identified for fear of retribution. "They should come out in full force and help clean up the areas and restore electricity."
The Forum for Democracy in Burma and other dissident groups outside of Myanmar called on the international community to provide urgent humanitarian assistance and urged the military junta to allow aid groups to operate freely - something it has been reluctant to do in the past.
"International expertise in dealing with natural disasters is urgently required. The military regime is ill-prepared to deal with the aftermath of the cyclone," said Naing Aung, secretary general of the Thailand-based forum.
A Western diplomat, who spoke on condition of anonymity because of the sensitivity of the issue, said it was difficult for other countries to help unless they received a request from Myanmar's military rulers.
"We have to be welcomed by the host government," the diplomat said. "The international community is willing to provide humanitarian assistance. There has been tremendous destruction. At the end of the day, the government needs to let in the assistance."
Michael Annear, a regional disaster management delegate for the International Federation of the Red Cross in Bangkok, said his agency had teams in Yangon on Sunday distributing shelter kits and other relief supplies.
The cyclone came at a delicate time for Myanmar, which is scheduled to hold a referendum May 10 on the country's military-backed draft constitution. Authorities have not yet said whether they would postpone the vote.
A military-managed national convention was held intermittently for 14 years to lay down guidelines for the country's new constitution.
The new constitution is supposed to be followed in 2010 by a general election. Both votes are elements of a "roadmap to democracy" drawn up by the junta, which has been in power for two decades.
Critics say the draft constitution is designed to cement military power and have urged citizens to vote no.