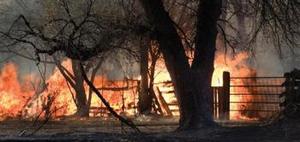 ©AP Photo/Pueblo Chieftain, Chris McLean
Farm structures, fence, trees and brush go up in flames on rural property near Ordway, Colo., on Tuesday, April 15, 2008. What started as a grass fire southeast of the small town in southeastern Colorado quickly grew into a massive blaze as high winds fueled flames and destroyed houses and agricultural ground.
Firefighters were hoping rain and snow Wednesday would help them quell blazes that scorched thousands of acres, forced hundreds of residents to evacuate and left three people dead.
Winds gusted up to 50 mph along the Rocky Mountain Front Range and eastern plains on Tuesday, fanning flames that quickly spread across 7,100 acres - or 11 square miles - of grassland near Ordway. Authorities told all 1,200 residents to leave.
By late Tuesday, firefighters had contained 50 percent of the blaze, which damaged at least 20 buildings, four within town limits, fire information officer Chris Sorensen said.
Officials said two people died in the fire, though they didn't immediately release details.
A firefighting plane crashed near Fort Carson, killing the pilot, who was battling a blaze that scorched 9,000 acres - about 14 square miles - and forced the evacuation of people living near the base.
That fire raged unchecked late Tuesday, said Capt. Gregory Dorman, a base spokesman. Two shelters were set up at the post and a third at a nearby community college to house evacuees.
A third fire, near Carbondale in the western Colorado mountains, damaged at least two homes and injured one person, though the nature of the injury wasn't known.
In Ordway, smoke hung like fog late Tuesday as the darkened town stood deserted. All but a handful of residents left for the nearby communities of Sugar City and Crowley, where officials set up a shelter. An unknown number of residents were allowed to remain in a nursing care facility in a section of Ordway not threatened by the fire, Sorensen said.
Armed with a chainsaw, shovel and hose, Brian Walker stood ready to save his house from the flames.
"Well, I got a yard, and I got a home and I want to keep it," said Walker, 45. "I thought if the fire came, I thought I could do whatever I could to stop it."
Helicopter footage showed at least three houses fully engulfed in flames near the town about 120 miles southeast of Denver. Two state highways were closed.
At least three heavy air tankers, each capable of carrying up to 2,500 gallons of fire retardant, were sent to Ordway, said Steve Segin, a spokesman with the Rocky Mountain Area Coordination Center, which helps with wildfire response.
Crowley County Sheriff Miles Clark said he asked the Colorado Bureau of Investigation to help investigate the cause.
All three fires broke out after a wetter than normal winter was followed by a dry March.
Gov. Bill Ritter declared a state of emergency, freeing up state resources to help fight the fires. The Federal Emergency Management Agency also agreed to provide money for the firefighting efforts.
The Army said the wildfire near Fort Carson was burning in the rolling hills and grassland that rise up from the plains to meet the pine forest in the mountains outside Colorado Springs, about 60 miles south of Denver.
One state highway was closed. The cause of the fire hadn't been determined.
Federal Aviation Administration spokesman Mike Fergus said the single-engine air tanker that crashed, one of two sent to help battle the blaze, was based in northeastern Colorado.
The wildfire near Carbondale, in the mountains about 120 miles west of Denver, blackened about 300 acres. The fire, which officials had earlier estimated at 1,000 acres, was about 25 percent contained late Tuesday.
Much of the state was under a National Weather Service red flag warning Tuesday, signifying high danger. Aside from the wind, humidity around Ordway was low and temperatures reached into the 80s Tuesday afternoon.
Dry conditions on the plains and in some mountain valleys contrasted with deep snow at higher elevations.