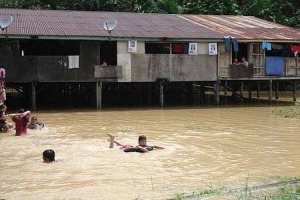 ©Unknown
Water logged: A longhouse in Limbang parliamentary
constituency in Sarawak hit by floods after heavy rain.
Political campaigning in three huge and remote parliamentary constituencies in northern Sarawak - Baram, Limbang and Lawas - have been brought to a premature halt by massive floods - which could also force the announcement of election results in these areas to be postponed to Sunday.
Floods as high as 1.2m have hit longhouses, timber roads, semi-urban villages and several parts of the Pan Borneo Highway after heavy rain over these interior regions from Wednesday afternoon.
Hundreds of villagers and rural folks were cut off from the outside world .
Several politicians and election campaign workers from various political parties were also trapped in the flood-hit areas, forcing them to cancel their campaign rounds to very remote regions.
In Lawas, mountainous areas like Bario and Ba'Kelalan had their timber road access cut off because these roads had turned into rivers of mud.
Barisan's campaign workers making their rounds in these remote regions had to stop using land transportation because it was too risky .
Sarawak Election Commission returning officer Haji Dakun Sungah said preparations for polling had started in many interior polling stations.
He said the commission's main worry, however, was getting out from the interior polling stations.
"We must conclude everything and get out by 3pm at the very latest on polling day. Beyond that and we will be in trouble.
"The worst scenario is that we may have to postpone the announcement of results for certain interior constituencies to Sunday," he said.