The US government agency responsible for compiling the country's list of endangered species will face a new legal challenge today over its failure to protect the polar bear. Environmental groups are set to sue the Bush administration in a federal court in California, claiming the Fish and Wildlife Service is now in breach of its own mandate.
The FWS was due to have decided by January 9 whether to classify the polar bear as threatened due to climate change.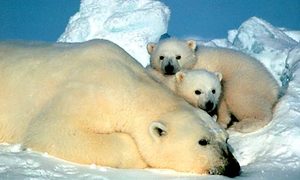 ©AP
Polar bears in the Arctic National Wildlife Refuge in Alaska
This date itself was a full year after consultations began on the issue. But the service has said it is still reviewing technical data along with more than 670,000 comments on the issue.
The FWS inspector general has announced a preliminary investigation into the delay to determine whether a full-fledged investigation is warranted.
Environmental campaigners widely believe the decision is being held up by the Bush administration so it can complete sale of valuable oil and gas leases in coastal waters in Alaska - areas considered to be prime bear habitats.
"The Bush administration seems intent on slamming shut the narrow window of opportunity we have to save polar bears," said Kassie Siegel, climate program director at the Center for Biological Diversity, which, along with Greenpeace and the National Resource Defence Council, is involved in the legal challenge.
With the polar bear having become a leading symbol of the planet's deepening environmental crisis, its inclusion on the endangered list is a key issue to groups seeking to force the Bush administration to recognise the fact of climate change as a consequence of man-made atmospheric pollution.
While US law requires an endangered species listing decision to be made strictly on the basis of scientific information regarding the foreseeable future, groups believe that recent sales of oil and gas leases in the Chukchi Sea, as well as expectations of an energy and mining boom across the entire Arctic region, is the truer measure of the administration's motivation.
"This administration has listed fewer species than any other - ever - under the Endangered Species Act," said Siegel. "Time and again we have seen political interference in listing proposals that are supposed to be based on science."
Environmental groups hope that the courts will force the administration to make a decision to protect the species - a decision that would be widely interpreted as a significant step toward acknowledging the extent of climate change. "For seven years they have denied or downplayed global warming," added Siegel. "This is the thing that has pinned them into a corner; either they go to court and lose, or acknowledge it - and acknowledge that our greenhouse gas emissions are driving the polar bear to extinction."
Disputed figures
There is disagreement over population numbers for polar bears. The animals are difficult to count in the wild. Unlike ring seals or walruses, which live and hunt exclusively on ice, polar bears are considered relatively adaptable. Alaskan political figures led by Governor Sarah Palin, a consistent advocate of increased oil and gas drilling, maintain the bears' population is steady. But a recent US Geological Survey report stated that unless greenhouse gas emissions are curbed significantly, two-thirds of the world's polar bears, including all Alaskan bears, will disappear by 2050.
What is not in dispute is the decline of ice cover. Surveys have shown there was 1m square miles less sea ice last summer than the average minimum extent observed between 1979-2000. Even this analysis is considered cautious. A study released in January by the US National Snow and Ice Data Center says the North Pole could be free of summer sea ice by 2030; one Nasa scientist says it might gone by 2012; and a meteorologist in Resolute Bay, Canada, told guardian.co.uk last summer of a projection in which the region could have "Florida summers in 40 years".
Still, the forces arrayed against listing the bear are formidable. Listing a species obligates the Fish and Wildlife Service to develop a recovery plan and to designate critical habitats. In a cascade of knock-on effects, this would force all government agencies to ensure they do not jeopardise the species or adversely affect its habitats.
To Alaskan political figures, the implications are clear. Alaska senator Ted Stevens recently voiced concern that bear protections could interfere with construction of a pipeline from the state's North Slope gas field. Adding polar bears to the endangered list, Stevens said, "would establish a dangerous precedent".
Given the economic and strategic value of the oil and gas reserves in the US High Arctic - the leases on 29m acres of the Chuchki Sea raised $2.6bn and a further 83m acres are being made available - it is conceivable that the administration could reject listing the bear altogether.
"The science is unequivocal," said Margaret Williams, director of World Wildlife Fund's Bering Sea programme. "But anything is possible given this administration's poor record on listing species. It's hard to imagine such a decision could be made in good faith."
Still, those opposed to the listing argue that the scientific justification to declare the bear as threatened isn't there. They dispute evidence that bear populations are showing the signs of environmental stress - such as declining numbers, declining life expectancy, and low birth weight. "From my perspective, it's very difficult to put a population on the list that's healthy, based on a projection 45 years into the future," said Ken Taylor, Palin's deputy commissioner of fish and game, recently. "That's really stretching scientific credibility."
Hunting
Across the Arctic region of the North American continent, there is resentment over what Inuit regard as meddling southerners. Under Canadian regulations, indigenous communities are awarded licences to kill a certain number of bears each season. These "tags" are typically sold to wealthy US and European hunters, each bringing in as much as $50,000 each to impoverished communities.
If polar bears were listed, a complete ban on hunting on US territory would follow. Furthermore, the skins of bears shot in Canada would be banned from the entering the US. These measures would be a strong disincentive to US trophy hunters, who might take their lucrative business elsewhere.
Inuit elders say that since those in the south are the cause of the imbalance between nature and man, they have no right to challenge the Inuit's tradition as huntsmen. But environmentalists stress their objective is not to deprive indigenous people of their livelihood.
Other Arctic species have been listed before - Kittlitz's murrelets, for example - and more are proposed, including the walrus and ringed seal. But as the argument over the polar bear's status intensifies, there's no underestimating the emotional value invested in the outcome. "It's a landmark decision and [a] landmark case," said Williams. "But we still don't know how it will play out."