An operation to rescue anglers from an ice-floe, drifting in the Sea of Okhotsk off the Sakhalin coast, has been successfully completed. According to the latest data of the Sakhalin branch of the Russian Ministry for Emergencies, as many as 758 people have been brought to the shore.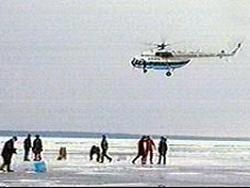 ©Unknown
The rescue operation was carried out by the crew of a Mi-8 helicopter of the Aviashelf Company, headed by commander Nikolai Silenko. The helicopter airlifted 350 people to the shore. Others were rescued by motorboats. The copter is now making a control overflight of the area of the incident to get convinced that nobody is left on the drifting ice-floe.
The ice-floe broke away from shore ice on Sunday at 13.40 local time in the Mordvinov bay, Sakhalin western coast, and it started drifting off the coast. Incidentally, warnings of possible breakaways of ice from shore ice had been broadcast in Sakhalin for several days. However, anglers had ignored these warnings.