Forecasters warn that more severe weather is on the way as rain and gales pummel parts of Britain.
Sky weather forecaster Lucy Verasamy said even stronger winds were on their way, especially for the South West and coastal areas, after gusts of 80mph battered the south.
Solent Coastguard has been told to expect gusts up to a violent storm force 11 this afternoon.
"The worst is yet to come," Lucy said.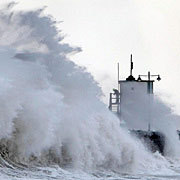 ©Unknown
Waves batter South Wales
"There is a relative lull at the moment but there is a swathe of strong winds heading into the south west.
"The gusts of up 80mph earlier in the south and they are expected to get stronger as we head into the afternoon.
"That's severe gale or storm force winds. That's enough to bring structural damage, disruption to power supplies and difficult driving conditions."
She added: "There is more wet and windy weather to come this week."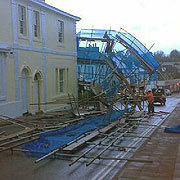 ©Unknown
Scaffolding collapse in Torquay, Devon
The Met Office has severe weather warnings in place for most of England, Wales, Northern Ireland and central Scotland, where snow is the chief problem.
And the Environment Agency has seven severe flood warnings in place and 44 flood warnings.
Trees have been uprooted, buildings damaged and trains and flights delayed or cancelled.
Some 86 flights have been cancelled at Heathrow Airport, 95 at the City of London and 20 diverted or cancelled at Gatwick.
Around 4,500 people woke up this morning without power in the West Country and South Wales while there were also power cuts in Hassocks, West Sussex, and Kingston, near Lewes, East Sussex.
There was severe disruption to South West Trains rail services into London while a Swedish tanker is in trouble off the Isle Of Wight and the Port of Dover was closed this morning to all shipping movements.
A number of schools were closed in Kent and East Sussex.
The highest recorded wind speed so far is 95mph on the Needles off the coast of the Isle of Wight.
Dorset Police reiterated calls for motorists to avoid all but essential journeys in the "severe weather".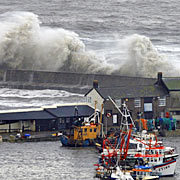 ©Unknown
Coastal flooding is expected
Baroness Young, chief executive of the Environment Agency, said coastal flooding was likely.
"Another couple of bands of wind and rain are coming through and one of them may coincide with a particular high tide," she told Sky News.
"In vulnerable areas we could see our defences over-topped and substantial flooding."
She added: "We are still not out of the woods. There will be these strong winds and high tides until Wednesday morning."
Across the Channel, a Dutch cargo ship ran aground in the Vendee region of France's west coast. Maritime officials said it was approaching the port when high winds pushed it off course.