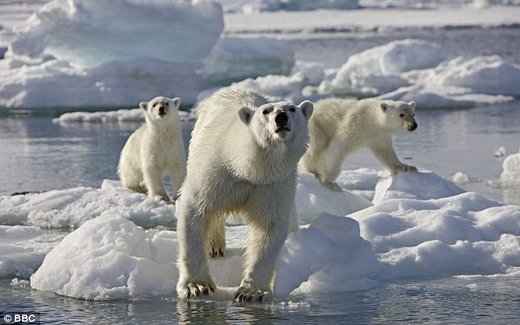 Why don't polar bears eat penguins? Because their paws are too big to get the wrappers off, obviously. It's not a joke you hear so often these days, though, because polar bears are now a serious business. They're the standard-bearers of a tear-jerking propaganda campaign to persuade us all that, if we don't act soon on climate change, the only thing that will remain of our snowy-furred ursine chums will be the picture on a pack of Fox's glacier mints.
First there came the computer-generated polar bear in Al Gore's
An Inconvenient Truth
; then that heartrending photo, syndicated everywhere, of the bears apparently stranded on a melting ice floe; then the story of those four polar bears drowned by global warming (actually, they'd perished in a storm).
Now, in a new cinema release called
Earth
- a magnificent, feature-length nature documentary from the makers of the BBC's
Planet Earth
series - comes the most sob-inducing "evidence" of all: a poor male polar bear filmed starving to death as a result, the quaveringly emotional Patrick Stewart voiceover suggests, of global warming.
Never mind that what actually happens is that the bear stupidly has a go at a colony of walruses and ends up being gored to death.
The bear wouldn't have done it, the film argues, if he hadn't been so hungry and exhausted. And why was he hungry and exhausted? Because the polar ice caps are melting, thus shortening the polar bears' seal-hunting season.
Having been up to the bears' habitat in Svalbard, I do have a certain amount of sympathy with these concerns. To claim, however, that they are facing imminent doom is stretching the truth. In 1950, let us not forget, there were about 5,000 polar bears. Now there are 25,000.
No wonder Greenpeace had trouble getting polar bears placed on the endangered species list. A fivefold population increase isn't exactly a catastrophic decline.
But never let the facts get in the way of a good story. The doom-mongers certainly won't. Despite evidence from organisations such as the US National Biological Service that in most places polar bear populations are either stable or increasing, Ursus maritimus will continue to top the eco-hysterics' list of animals in danger because it's so fluffy and white and photogenic.
If you're really that worried about their demise, I'd book yourself a ticket to Churchill, Manitoba, where the evil buggers (about the only creature, incidentally, that actively preys on humans) are so rife they're almost vermin.
And if things get really bad, we can always ship the survivors off to Antarctica where, unlike the North Pole, the ice shelf appears to be growing. Then the joke would be even less comprehensible. Why don't polar bears eat penguins? But they do, actually!