New Zealand's Mount Ruapehu erupted without warning Tuesday night, and at least two people were reported to be injured as lahars, or volcanic mudflows, swept down the mountain.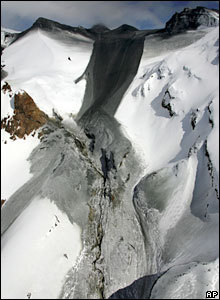 ©BBC
New Zealand's snow-capped Mount Ruapehu volcano erupts, spewing mud down its slopes as well as flying rock, which seriously injured one climber.
Civil defence officials ordered skiing areas evacuated and police closed roads in the area, including the North Island's main state highway and railway line, which run near the foot of the 2,797-metre high mountain.
Scientist Brad Scott told TV3 the eruption, which lasted seven minutes, followed a small earthquake measuring 2.8 on the Richter scale.
Sketchy news reports said a mountaineer and a worker on a snow groomer had been injured but there was no immediate confirmation.

©NASA
Mt. Ruapehu, New Zealand
People were advised to stay off the mountain until it was ruled safe, but Paul Wheatcroft, a local council official, told Radio New Zealand. 'At this stage it's not a civil defence emergency.'
It was not known how many people were staying in huts or chalets on the mountain, but it was the first week of spring school holidays, when many families often go to two skiing areas.
Officials said the number of lahars and the impact of what was declared a level two eruption on a scale of five could not be established until daybreak Wednesday.
Volcanologist Craig Miller said it appeared they were a lot smaller than the last lahar on March 18 which swept thousands of tonnes of rock-filled water harmlessly down the mountain after activating alarms and safety systems installed following a disaster 54 years earlier.
On Christmas Eve 1953, 151 people died when a rail bridge was swept away shortly before the night express between the capital Wellington and the biggest city Auckland passed over it.
Officials said the March lahar, which was crated when the volcano's steaming crater lake burst its banks, travelled down the predicted path and the early warning response system worked exactly as planned.