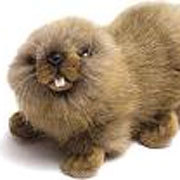 'Freeze. You're surrounded!'
Armed police surrounded a car in the German city of Wuppertal after sightings of a masked criminal - but instead of confronting a crook they found a large stuffed toy.
The woman who made the call to police was returning to her car in an indoor car park late at night.
She saw the suspected criminal through the window of a parked van, police said.
Though she later admitted to only catching a glimpse in the darkness, she was sufficiently alarmed to alert the authorities.
Armed officers arrived in three cars and surrounded the van.
What they found was a large toy beaver, strapped into the passenger seat.
A police spokesman said he struggled to see how the toy, which has two oversized front teeth, could have been mistaken for a person.