A centre named after John Lennon has been opened by his widow Yoko Ono at a children's hospital in his home city.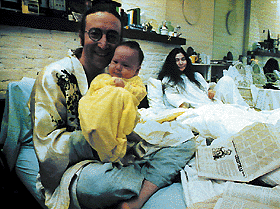 ©InstantKarma.com
John Lennon, Yoko Ono and their baby, Sean
Ono officially launched The John Lennon Child Health Foundation - set up to carry out pioneering research work at Alder Hey Hospital, Liverpool.
She is already a patron of the hospital's Imagine appeal, which is named after the famous Lennon song.
Ono is also visiting John Lennon Airport for the inaugural flight of the Liverpool to New York service.
Passion shared
According to Tony Bell, chief executive of Alder Hey, the new foundation's mission is to improve the health and well-being of children and young people through research, innovation, education and collaboration.
Ono said she believed her late husband, who was born in 1940 in Liverpool's Oxford Street Maternity Hospital, would have supported the ethos of the foundation.
She added: "I share their passion and vision for a global approach to the research and treatment of childhood illnesses, and I know John would certainly have felt the same way."