Officials closed a 35-mile stretch of Interstate 75 from the Georgia-Florida state line to Lake City, Fla., as well as a 40-mile stretch of Interstate 10, from U.S. 90 to U.S. 129, as a gigantic wildfire approached them Saturday morning.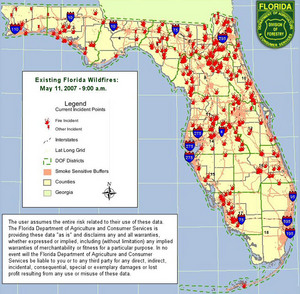 ©Florida Division of Forestry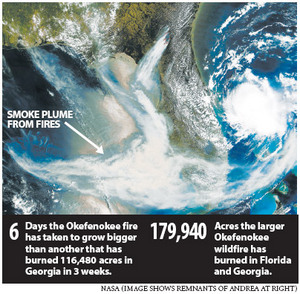 ©NASA
Smoke plumes visible from space
"It's smoke and fog right now, but the fire is not far,'' said Bill Hamilton with the joint fire information center. He said he expected the road closure to be in effect for at least several hours.
Georgia authorities also closed the southbound lanes on Interstate 75 for about 15 miles, from Valdosta, Ga., to the state line, because of the smoke Saturday afternoon, and warned drivers the northbound lanes might be next because of severely diminished visibility.
Florida officials said they could attribute at least four accidents on the two highways and area roads to smoke and that some roads were at "near zero visibility'' during morning hours.
The largest accident appeared to be a five-car crash that occurred on the interchange between the two highways that is northwest of Lake City. One person was transported to a hospital, but the extent of the injuries was unknown, said Columbia County spokesman Harvey Campbell.
Firefighters expected some help from "a calmer day'' with winds only around 5-10 miles per hour Saturday as they battled two giant wildfires in southeast Georgia and northern Florida that have already burned a total of more than 330,000 acres.
Officials said Saturday morning that a wildfire that has raced through the Okefenokee Swamp in southeast Georgia and into northern Florida has charred more than 212,000 acres -- or nearly 300 square miles -- since a lightning strike ignited it a week ago.
The fire started last Saturday in the middle of the Okefenokee National Wildlife Refuge. It took just six days to grow larger than a wildfire that has burned nearly 124,000 acres of Georgia forest and swampland over more than three weeks, since a tree falling on a power line ignited it.
The fast-growing fire more than doubled in size Thursday as wind from the northeast fanned it across dry swamp grasses. Its movement slowed on Friday, but firefighters expect the blaze to keep growing, especially as the wind picks up again Sunday.
The blaze has burned more than 111,000 acres in Georgia's Ware and Charlton counties and 101,000 acres in Florida's Baker and Columbia counties and the Osceola National Forest.
Haze from the fires had traveled more than 300 miles to the Miami area. Officials said the fire has burned to within about six miles north of Interstate 10, where heavy smoke blanketed the area and visibility on the highway was reduced to about a quarter of mile.
In Georgia, the fire posed a potential threat to the tiny city of Fargo, where 380 people live about eight miles west of the Okefenokee Swamp. Occupants of about 15 homes in a Fargo subdivision were evacuated and residents in a few other communities were asked to be ready to leave.
In north Florida, about 600 families were still unable to return home Saturday morning, said Jim Harrell, of the Florida Division of Forestry.
The Okefenokee National Wildlife Refuge and Steven C. Foster State Park inside it remained closed.