Poisonous caterpillars are spreading across England, prompting warnings from environmental health officers.
A series of mild winters has seen swarms of brown tail moth caterpillars move from their usual habitats along the south-east coast to as far north as Yorkshire.
The brown and red grub is covered in millions of tiny hairs that contain a toxin that can cause painful rashes, eye infections and, if inhaled, serious breathing difficulties.
As the caterpillars have moved inland, environmental health officials have been putting up warning signs in popular beauty spots.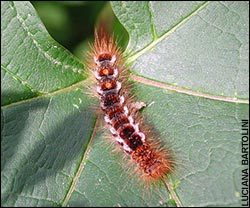 ©Luciana Bartolini
The brown tail moth caterpillar has flourished after a series of mild winters
Richard Fox, the moth project manager at the Butterfly Conservation Trust, said: "They are spreading northwards and west across the country to the point that they are now common in London and all along the south of England. This is probably due to climate change as the conditions are favouring them."
While most moth and butterfly species in the UK have declined in number over the past decade, the brown tail moth has flourished. They usually emerge from large silk "tents" on the branches of bushes in late spring before pupating into white and brown moths in July and August.
Local authorities across the country have this year launched monitoring programmes to find and control them.
One of the worst outbreaks is along the A34 Winchester to Oxford road, where tens of thousands of nests have appeared in roadside bushes.
Phil Sterling, who spent seven years studying the brown tail moth before becoming natural environment manager at Dorset County Council, said: "The numbers we are talking about are much more like those we see in France where the weather is warmer and where they are a major pest. If they get into busy urban areas they can pose quite a considerable risk to people."
Residents of Hove, near Brighton, have been struggling with swarms of the caterpillars this year. Signs warning visitors about them have also appeared along the coast in Dorset. In Portsmouth, council officials have been spraying affected trees and bushes in a bid to control the numbers.
Phil Harris, the director of the pest control company Exosect, which specialises in tackling brown tail moths, said: "They seem to have been a particular problem around Kent and Bournemouth while we are also hearing reports from some areas of London. Last year was a bad year for them, and although it is still early, this year may be as bad."
A spokesman for Natural England, the Government's wildlife advisory body, said: "There are major issues with brown tail moths in terms of public health as the hairs are a serious irritant that can cause conjunctivitis and breathing difficulties. Their populations fluctuate year to year, but they have been moving further north each year."
There are more than 2,500 moth species in the UK but popular species such as the garden tiger moth have reduced by almost 90 per cent in the past 20 years.