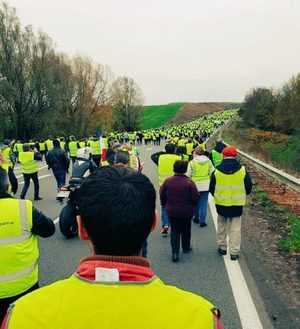 La France En Marche: Mass protests against rising taxes in France, 17 November 2018
For the great enemy of the truth is very often not the lie - deliberate, contrived and dishonest - but the myth - persistent, persuasive, and unrealistic. Too often we hold fast to the clichés of our forebears. We subject all facts to a prefabricated set of interpretations. We enjoy the comfort of opinion without the discomfort of thought.
- John Fitzgerald Kennedy
Recent Comments
only eight thousand years too young if dating is accurate. atlantean ruins may not be Atlantis. Try Carthaginian.
---
It's kinda like the lotto...gotta throw the crowd a crumb from time to time. A perpetual pipedream. Not enough to satisfy, but a distraction from...
---
War,famine,disease,injustice right here on Earth But the "national academy of space actors" keep taking our tax ca$h by the bucket loads and...
---
Says the woman who is without any shame both a bomber and a doctor....
---
Oh brother. So I got around to watching the New York Times 3 part appeal for government censorship of free speech and free thought. Amazing! Low...