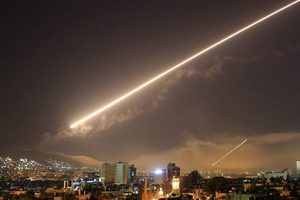 Syrian air defense systems protecting Damascus - the oldest continuously-inhabited city on Earth - from Western airstrikes, 14 April 2018
All truths are easy to understand once they are discovered; the point is to discover them.
- Galileo Galilei
Recent Comments
Jailing people for possessing a PLANT...only in the United Republic of Bananastan...
---
Is the gold even there anymore?
---
Anybody who reveals how America has been spying on the rest of the world via the hardware and software it has sold them is going to suffer the...
---
Sometimes it is reassuring that certain personalities are in the exact position they are meant to be in. Paradoxically, the daily routine of most...
---
I assume Russell was not black ... would he still have been guilty if he was