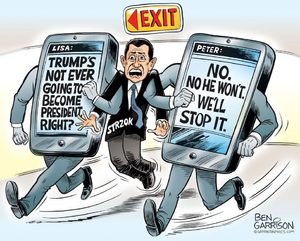 Strzok has left the building
What is truth anyway? The truth is the essence of something, its natural state, something as it really is. It is really a quest for love, because to truly love something we must know it for what it really is. Perhaps we can sense in an unconscious way that there is a deeper truth to everything and everyone, and we are led to search for the truth about it, so that we can truly love it for what it really is.
- Joe Quinn
Recent Comments
Unfortunately, the words will fall on the deaf ears of of the US "leaders" who do nothing but dance to the crack of their Zionist master's whip.
---
Not only has processed food exploded in the last 30-40 years, the ENTIRE 'science' behind a 'healthy diet' is inherently flawed because it's based...
---
I find it strange that Russia would have this stance. Is it their intention to change international law?...or are they deciding to side with the...
---
What a contrast to the shabby, bullying list of demands US made on Iran.
---
Sorry Moscow, but until you rid yourself of VODKA, there's no way in hell you can claim you're trying to create a 'drug-free society'.