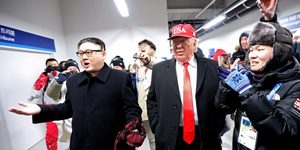 Did The Donald and Rocket Man secretly meet at the Winter Olympics in PyeongChang?
"In keeping silent about evil, in burying it so deep within us that no sign of it appears on the surface, we are implanting it, and it will rise up a thousand fold in the future. When we neither punish nor reproach evildoers, we are not simply protecting their trivial old age, we are thereby ripping the foundations of justice from beneath new generations."
- Aleksandr I. Solzhenitsyn
Recent Comments
Typical Political Hypocrisy. Can't have Father/Daughter dancing at a Public School; But does support Pride March in Public Streets.
---
Thank you Joe for an incisive analysis. And there's a but... imho, your piece could have been standalone, you didn't need to hang your exposition...
---
Yep. It gets down to both nature and nurture, and this idiot seems lacking on both fronts. But the goal will be that since his doctor put him on...
---
Some people are prone jump to extremes though, aren't they? They think you're talking about Mortal Kombat, when in fact all you're talking about...
---
Well, put it this way, like a bad piano that only produces cacophony, it could definitely do with re-tuning.