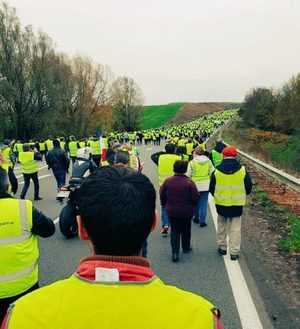 La France En Marche: Mass protests against rising taxes in France, 17 November 2018
For the great enemy of the truth is very often not the lie - deliberate, contrived and dishonest - but the myth - persistent, persuasive, and unrealistic. Too often we hold fast to the clichés of our forebears. We subject all facts to a prefabricated set of interpretations. We enjoy the comfort of opinion without the discomfort of thought.
- John Fitzgerald Kennedy
Recent Comments
If they are still investigating if the customers were serial offenders for not paying why sack the manager, I guess it's a case of bowing to SJ...
---
Staggering that the U.S. military fights in wars all over the globe, for U.S. security, yet can't deploy troops to secure it's own borders? That's...
---
"Trump, of course, needs his supporters, but this is a gamble that he has now clearly taken." They'll back him on such decisions, I'd say easily....
---
Sickening..again & again The most nauseous part is when you imagine these US pilots high fiving each other after landing. bro hah styles. The...
---
Its has to be seen as an external security threat, & treated as such,militarily Then heavily & honestly investigate the obvious bigger...