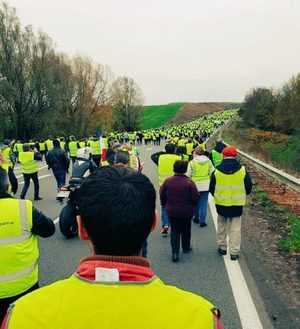 La France En Marche: Mass protests against rising taxes in France, 17 November 2018
For the great enemy of the truth is very often not the lie - deliberate, contrived and dishonest - but the myth - persistent, persuasive, and unrealistic. Too often we hold fast to the clichés of our forebears. We subject all facts to a prefabricated set of interpretations. We enjoy the comfort of opinion without the discomfort of thought.
- John Fitzgerald Kennedy
Recent Comments
Wrong image linked! Try again... The link above is not the pic I wrote about above. [Link]
---
The nature of relation to Jesus in the Christian way - which is of course not a 'settled or consensus religion' excepting as a top-down imposition...
---
I read the article,whilst repetitively LMAO. The brave Israel airforce has gone inexplicably silent where they once trespassed with murderous...
---
Wow! this has got to be a moment, 2 days later @ 4:11 am, no one has commented? I get it, I signed up for the test on Petersons website, and after...
---
only eight thousand years too young if dating is accurate. atlantean ruins may not be Atlantis. Try Carthaginian.