About Pat Mark
Born and raised in rural Kansas. I like nature, Sunrises & Sunsets,and helping others who are in need. I do not like people who are mean, rude or unkind to others. I was taught that if you can't say something good keep your mouth shut. All people in the world were created equal even if there are some who do not believe this.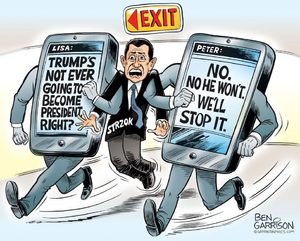 Strzok has left the building
Mystery creates wonder, and wonder is the basis for man's desire to understand. Who knows what mysteries will be solved in our lifetime, and what new riddles will become the challenge of the new generations.
- John Keel
Recent Comments
American actors at one time promoted healthy values. Remember the fifties show "Rin Tin Tin"? Sargent O'Hara often ended the show with a...
---
George: "Meteorites possible? - What's that, selective explosion?" No. When you see a "falling star'* it usually is a very small particle of...
---
Kinda reminds me of Manitoba in the summer. There are 2 seasons in Manitoba, bugs that suck blood and no bugs.
---
It is difficult to reconcile Christie's self proclaimed desire for privacy (" the respect for a private life") with all of the publicity she, he,...
---
Wow, what a great idea. How about using that technology in automobiles? What is the holdup? The oil companies? Government legislation that locks...