About Pat Mark
Born and raised in rural Kansas. I like nature, Sunrises & Sunsets,and helping others who are in need. I do not like people who are mean, rude or unkind to others. I was taught that if you can't say something good keep your mouth shut. All people in the world were created equal even if there are some who do not believe this.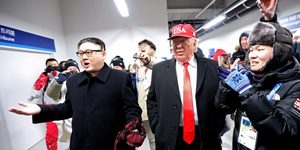 Did The Donald and Rocket Man secretly meet at the Winter Olympics in PyeongChang?
When a man knows he is to be hanged in a fortnight, it concentrates his mind wonderfully.
- Samuel Johnson
Recent Comments
Wow is right! Don't you love articles like this one because they offer a relatively simple alternative which can be easy to try? Nice!
---
The strategic imperative is to build smooth connections across the continent, converging on its Pacific coastline - and forward through maritime...
---
I had a tabby cat who was born with 2 hearts (seriously). They were also upside down. He lived for 26 years & died only because of a freak...
---
This article finishes with saying the North will have to "denuclearize" to win the day and freedom for their country... How would that work? If...
---
It would be interesting to see! Iran has promised to wipe Israel OFF THE face of the earth?? Does Israel FEEL lucky?? "WELL?? DO YA PUNK "???