About davisbigelow I'm an author, photographer and an adventurer. I eat a high whole wheat (ground into flour at my house) diet coupled with lots of fruit and vegetables - many of which I grow. I typically eat a homemade bread peanut butter and honey sandwich with a glass of cows milk every day and have done so for 35 years. I eat all meats, but usually not in large quantities. I drink lots of unpurified water (right out of my tap) and use butter, olive oil, sour cream and yogurt. I drink very little pop. I'm a healthy over 50 year old.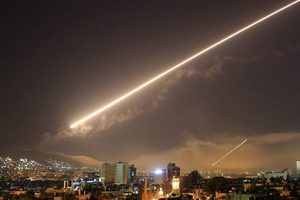 Syrian air defense systems protecting Damascus - the oldest continuously-inhabited city on Earth - from Western airstrikes, 14 April 2018
All truths are easy to understand once they are discovered; the point is to discover them.
- Galileo Galilei
Recent Comments
Because of all the incidents the boy now needs psychological treatment, and the perpetrators? They barely get any sanctions because they are...
---
Obstruction of justice is sufficient evidence to suggest that HMG has something to hide.
---
Now that's a 'friend' we all need ... Lend 4 billion dollars please? Thanks, dude!
---
The reporter might have walked passed a diesel Volkswagen with the engine running... :P
---
no public act of meaningful opposition to Israeli policy will be tolerated Just take a moment to mull that over