About davisbigelow I'm an author, photographer and an adventurer. I eat a high whole wheat (ground into flour at my house) diet coupled with lots of fruit and vegetables - many of which I grow. I typically eat a homemade bread peanut butter and honey sandwich with a glass of cows milk every day and have done so for 35 years. I eat all meats, but usually not in large quantities. I drink lots of unpurified water (right out of my tap) and use butter, olive oil, sour cream and yogurt. I drink very little pop. I'm a healthy over 50 year old.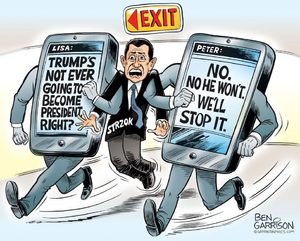 Strzok has left the building
What is truth anyway? The truth is the essence of something, its natural state, something as it really is. For me, it is really a quest for love, because to truly love something I must know it for what it really is. Perhaps we can sense in an unconscious way that there is a deeper truth to everything and everyone, and we are led to search for the truth about it, so that we can truly love it for what it really is.
- Joe Quinn
Recent Comments
- in wars between equal forces there will be no winner - "yesterday", there vere multitudes of suppliers, today "the winner takes it all", globaly...
---
"Remember a rat can fit through a hole that is only 20 millimeters - a five-krone coin!" the warning from the city said. That sounds like a very...
---
"Anubis Junior, stop fooling around on the Earth-plane and time-fractal back here right this minute! Your room needs cleaning!"
---
Q: What do you call a Greek alligator? A: A crocadopoulos
---
"Brother of Hanoi Jane Fonda". Drain the swamp...[Link]