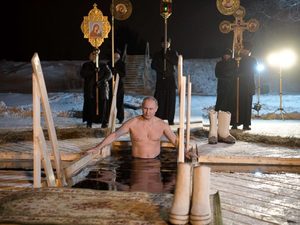 Epiphany
Cowardice asks the question: "Is it safe?" Expediency asks the question: "Is it politic?" Vanity asks the question: "Is it popular?" But conscience asks the question: "Is it right?" And there comes a time when one must take a position that is neither safe, nor politic, nor popular but one must take it because one's conscience tells one what is right.
- Martin Luther King, Jr.
Recent Comments
Question? When will the world's moral leaders decide it's time to protect the long suffering, innocent Palestinian Nation?
---
LindaMay said... "it s obvious Jason is a junior at emotional intelligence and not equipped to 'mediate relating'." Whereas, you've got about as...
---
Ha! Just got round to watching this interview... I think she falls for him right at the end after the absolute battering she received.. LOL....
---
BZB: "Nice going California...load up on some more rude and ignorant people who would not *dream* of acting like that in their own country." As...
---
Ahh Isreal. Identity politics writ large. The irony is thatm genetically speakingm the palestinians are closer to most jews than the liberal?...