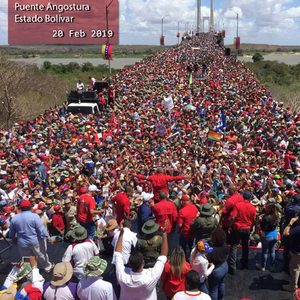 20 February 2019: Pro-Maduro demonstration on Angostura Bridge in Bolívar state, Venezuela
When men yield up the privilege of thinking, the last shadow of Liberty quits the horizon.
- Thomas Paine
Recent Comments
I thought Killary sold that to the Chinese ...
---
This is nothing new period. This article makes it seem like this crap began with the Trump presidency. Go back to the beginning of time dumbass.
---
Well, the war wasn't going so well, even after a swap out of general staff, so this is a new tactic. Dangling the carrot of US pull-out in...
---
This is the 21st Century Holocaust. The Bankers and ALL the Whores 4 War R US are really behind eugenics and the massive depopulation agenda. This...
---
ALL wars are built on lies because "War is a Racket!" For elite super freaks who feel entitled to ANYTHING and EVERYTHING on the planet. Their...