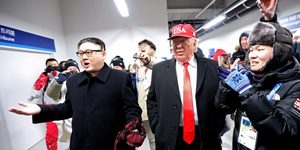 Did The Donald and Rocket Man secretly meet at the Winter Olympics in PyeongChang?
When a man knows he is to be hanged in a fortnight, it concentrates his mind wonderfully.
- Samuel Johnson
Recent Comments
Holy guacamole, Batman. Dunno. Whack 'em in the middle of an omelette?
---
How the fuck am I suppose to eat tacos. I dont mean taco bell tacos either. Im talking authentic off the cart Mexican style tacos, seasoned...
---
I always buy Irish butter, 'cause Ireland has the best-est, juicy-est grass. Talk about "taste the difference".
---
I have been diagnosed of multiple sclerosis (ms) for 6 years now, i have used so many prescriptions fromm my doctor but never gave me a cure...
---
I don't know why anyone would watch this kind of excrement. Hollywood movies are invariably total ca-ca. The genre should have been left to die...