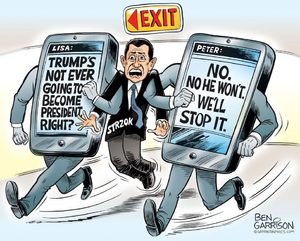 Strzok has left the building
Mystery creates wonder, and wonder is the basis for man's desire to understand. Who knows what mysteries will be solved in our lifetime, and what new riddles will become the challenge of the new generations.
- John Keel
Recent Comments
Put yourself in Dr. Jeremy Dean's shoes. If he doesn't come up with X amount of horse-shitey studies per month, his horse-shitey PsyBlog will...
---
Could well be that America is preparing to schtick it to its own since the powers that be have successfully divided the people via propaganda,...
---
Bill Gates is also a big fan of eugenics, so he might quietly pursue a similar scheme against human populations using vaccines... or perhaps GMO...
---
Trump didn't start it and it will continue after he is gone. Short of a cosmic intervention, the US is a lost case.
---
The control was already in place and democracy was non existent. Ike did what he was told to do. I got my first taste of it in the 50's when they...