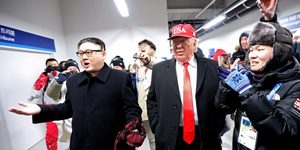 Did The Donald and Rocket Man secretly meet at the Winter Olympics in PyeongChang?
The West won the world not by the superiority of its ideas or values or religion (to which few members of other civilizations were converted) but rather by its superiority in applying organized violence. Westerners often forget this fact; non-Westerners never do.
- Samuel P. Huntington
Recent Comments
" I've never done it much myself." Color me shocked...here is my shocked face [Link]
---
nothing fishy here. I'm sure they all died of natural causes. So proud to be american. Bullet to the head? I bet it was self inflicted, just like...
---
The voices that "told him to do it" are from 4th density negatives, entities that are on the left-hand path of soul development. They are...
---
To add to what zman says, Pence is against Roe v Wade. If President, he will work to undo it. Gee - do you think that will be just a bit divisive?
---
Yes, the US is almost overtly at war with Russia. Yet, the two countries cooperate ever so friendly with their CGI ISS and with Antarctica, which...