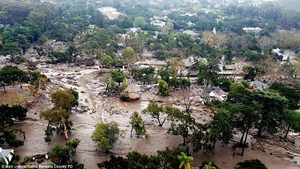 9 January 2018: Mudflows cause at least 20 deaths in Montecito, California
Each of us tend to think we see things as they are, that we are objective. But this is not the case. We see the world, not as it is, but as we are - or as we are conditioned to see it.
- Stephen. R. Covey
Recent Comments
Why can't we do that? Oh yeah, we need our taxes spent to buy more obsolete, PRE-completion/operational status F-35s when there's no one to fight...
---
wow. That's f-ed up holmes.
---
No shit Sherlock! While i appreciate him weighing in on the side of sanity, we don't need a soothsayer to tell us what is as clear as night, and...
---
American cops should take note, rather than breaking down pot smokers' doors and shooting their ever dangerous Chihuahuas. R.C.
---
Warren, I agree that their is no absolute justice, in action on this earth, due to the subjective nature of each of us. As a corollary, however,...