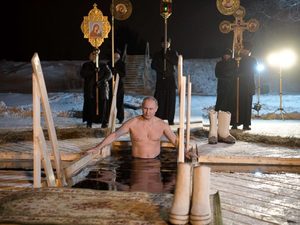 Epiphany
Cowardice asks the question: "Is it safe?" Expediency asks the question: "Is it politic?" Vanity asks the question: "Is it popular?" But conscience asks the question: "Is it right?" And there comes a time when one must take a position that is neither safe, nor politic, nor popular but one must take it because one's conscience tells one what is right.
- Martin Luther King, Jr.
Recent Comments
Rh- Negative Blood and Antediluvian Civilizations...[Link]
---
Don't get me started on the Sibercan and Siberian Indian dogs!
---
Sounds as bad as Germany. I remember once, I was in Munich walking down this little street. There were no cars in the street, and as the pavement...
---
It's a bit of reverse Solutrean with a little bit of Noah thrown in.
---
The American horse went extinct about 10,000 years ago shortly after the Siberian invasion with evidence of them being eaten to extinction and now...