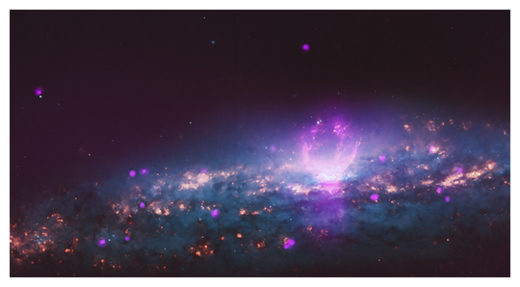 Astronomers have discovered a distant galaxy that's giddily blowing bubbles like a toddler with a glass of chocolate milk. Unlike milk bubbles, however, these two huge galactic balloons are filled with gas, stretch a few thousand light-years across and appear to be crackling with
charged particles
100 times more energetic than any found on Earth.
Using data from the
Hubble Space Telescope
and NASA's Chandra X-Ray Observatory,
researchers detected the bubbles jiggling near the center of a galaxy named NGC 3079, located about 67 million light-years away from Earth.
Bubbles like these are known as "
superbubbles
" because, well, they're supersized. According to the team's study in the Feb. 28 issue of
The Astrophysical Journal
,
one of the newly discovered bubbles measures 4,900 light-years across, and the other measures 3,600 light-years across. (For comparison, the diameter of
Neptune's orbit
around the sun is about 5.6 billion miles, or 9 billion kilometers - one-thousandth of
one light-year
.)
Superbubbles form when powerful shock waves shove the gases released by stars far into space, leaving a bubble-shaped cavity behind. Scientists still don't fully understand how these massive gas cavities form.