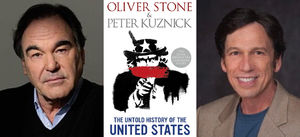 This week on SOTT Talk Radio we spoke with Peter Kuznick, Professor of History and Director of the Nuclear Studies Institute at American University in Washington, DC. Kuznick received his Ph.D. from Rutgers University in 1984 and was active in the Civil Rights and anti-Vietnam War movements. He is author and co-author of several books on the atomic bombings of Hiroshima and Nagasaki, the use of nuclear power, and the Cold War.
Kuznick and Oliver Stone co-authored the 10-part documentary film series and book -
The Untold History of the United States
- which explores some of the under-reported and darkest parts of American 20th century history using little known documents and newly uncovered archival material.
We explored with Professor Kuznick the creation of the U.S. National Security State during WW2, the real reasons behind the Cold War and the decision to drop atomic bombs on Japan, and the side-lining of 'the man who would be president', Henry Wallace.
Running Time:
01:55:00
Download:
MP3