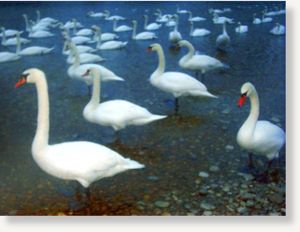 Sixteen swans have died in the last 10 days and up to 10 more are seriously ill after they contracted a mysterious infection on the Grand Canal in Dublin.
Tests are being carried out on the corpses of the birds by the Department of Agriculture at the State laboratory.
As of yesterday avian flu had been ruled out, but the cause of the bird deaths remained unknown last night.
A spokeswoman for the Dublin Society for the Prevention of Cruelty to Animals, which is caring for the sick swans, said they appeared to have contracted a bacterial infection which was possibly botulism.