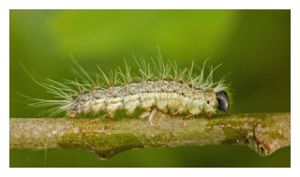 Residents in Pangbourne and parts of west London have been warned to steer clear of a toxic caterpillar.
The Forestry Commission has issued a caution not to touch the caterpillars of the oak processionary moth.
Their hairs contain a toxin that can cause itchy skin rashes as well as eye and throat irritations.
The Forestry Commission's Stewart Snape said residents can report sightings but that the caterpillars should only be removed by pest control operators.
Officials are now dealing with outbreaks of the moth in Pangbourne in West Berkshire and the London boroughs of Ealing, Brent, Hounslow, Richmond upon Thames and Hammersmith & Fulham.
Health Protection Agency director Dr Brian McCloskey said: "We strongly advise people not to touch or approach the caterpillars or their nests because of the health risks caused by the toxin-containing hairs.