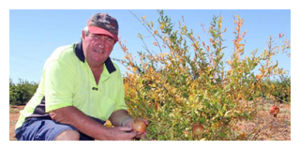 Growers remain bewildered by the mysterious death of pomegranate orchards across Australia.
"I've lost 70 per cent of my crops in the past year," Mildura district horticulturalist Graham Robertson said.
"Of the 10,000 trees I put in, I've got about 2500 left."
Pomegranates, a Middle-Eastern native and a traditional homestead fruit tree, have roared back into favour on the back of healthy lifestyle fruit drinks and low-fat snack options.
Australia's rapidly changing ethnic mix in the cities has also been responsible for their newfound popularity.
The fruit was seen by many as a saviour for irrigators who have pulled their grape vines because of the glut in wine.
"The only thing we have got left around here is asparagus farms and horse paddocks," said Mr Robertson, from Cardross.
Pomegranate orchards from Western Australia, Queensland, NSW and now in northern Victoria have fallen victim to a baffling dieback.