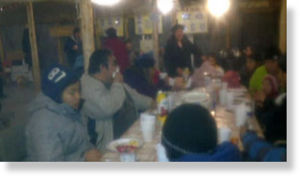 Things are looking a bit brighter for the northern Quebec Cree communities of Wemindji and Chisasibi, which have been without power for more than 30 hours, as Hydro Quebec has come up with plans to restore power.
Power has now been restored to about a third of residents in Chisasibi as of about 5 p.m. ET Tuesday.
Hydro Quebec is slowly bringing the power back so as not to blow the line.
If that plan works, it will do the same for Wemindji in the morning. If the system crashes, the company will start the backup generators it sent to the communities.
Hydro Québec estimates the power could be restored within 24 hours.
About 5,200 people have been without power for a day and a half.