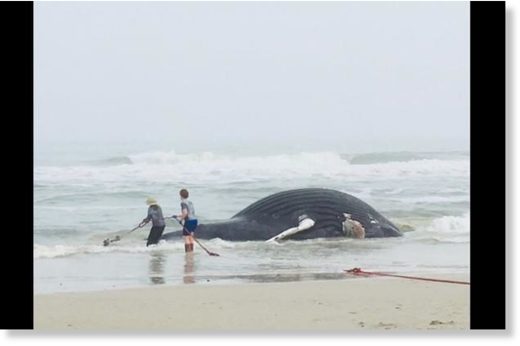 A small, dead whale washed ashore Sunday in Fernandina Beach near the intersection of Bill Melton Road and South Fletcher Avenue and near Beach Access 40.
Representatives from the Florida Fish and Wildlife Conservation Commission were on the scene Sunday afternoon as were Nassau County Sheriff's Office deputies to help keep onlookers at a safe distance.
The whale was "anchored" to the shore in an attempt to keep it in place through Sunday night.
A necropsy will be performed on Monday.
The options for permanent disposal are to have it towed far out to sea or to bury it deeply in the sand. It can be prohibitively expensive to have such a massive animal towed out to sea.
The whale does not appear to be mature and shows signs of being scavenged by sharks.