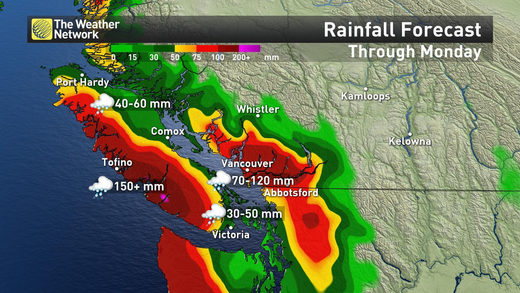 Atmospheric river to bring persistent rain, heavy alpine snow to British Columbia, Canada
Steady rain and high elevation snow will continue through Monday in British Columbia, as a Pacific low lingers off the coast of British Columbia into Tuesday, setting up an atmospheric river directly pointed at the south coast.
Aside from high elevation snow, the heavy rainfall for Vancouver Island and the lower mainland has raised the risk of mudslides and flooding. The B.C. River Forecast Centre has issued a flood watch for eastern Vancouver Island, and a high streamflow advisory for much of the rest of the island, as well as the south and central coast.
In terms of rainfall, rain will continue for the southern coast Monday, with moisture sinking south and the steady rain ending later tonight.
The western shores of Vancouver Island will take the brunt of the precipitation as forecast amounts are expected to exceed 150 mm.
Snow will not be as much of an issue as freezing levels will be approaching 2000 m (albeit briefly), which is roughly the elevation of the peaks. However, there is still a chance for some peaks to see 30-50 cm of snow.
Temperatures start to drop tonight into Tuesday with freezing levels dropping to 750-1000 m, according to Weather Network meteorologist Matt Grinter.
"Snow and rain showers will continue through the week, but more scattered in nature," Grinter says.