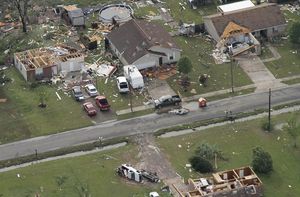 Vilonia, Arkansas - People are skittish in this small town of 3,000 residents.
On April 25, a nasty tornado touched down, leveling subdivisions, wrapping metal around trees like crepe paper and killing five people. In Black Oak Ranch Estates, more than 100 homes were destroyed.
Less than a week later, on May 1, the town was hit with flash flooding from the nearby Little Palarm Creek caused by heavy rains from a cold front that stalled over the state.