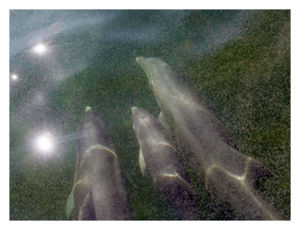 Houston -- The deaths of more than 120 dolphins on the Texas coast have prompted a federal agency to declare the event "unusual" and launch an investigation into whether they were related to a drought-related algae bloom or a more widespread mortality event that has plagued the northern Gulf of Mexico for two years.
The National Oceanic and Atmospheric Administration has called the stranding of 123 dolphins on Texas shores from November through March an "unusual mortality event," an official federal listing that allows the agency to access additional funds and set up a team of researchers.
All but four of the dolphins that washed up in Texas were dead, and those that turned up alive died a short time later, said Blair Mase, the southeast marine mammal stranding network coordinator for NOAA Fisheries.
What alarmed scientists, though, was the age of the bottle-nosed dolphins that washed up -- juveniles rather than the very young or elderly that typically would be found -- and the fact that Texas had a year's worth of dead dolphins turn up over five months.