- 'Weather bomb' leads to unprecedented Met Office red warning
- Roads, trains, ferries and airports affected across Britain
- Schools and public buildings closed down in parts of Scotland and thousands left without power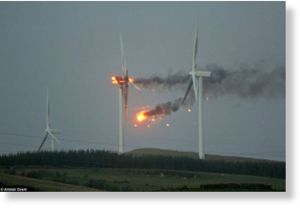 Hurricane-force winds have battered parts of the UK with millions of people in central Scotland warned to stay at home and avoid travelling
after 165mph gusts left thousands of homes without power, closing bridges, rail lines and roads.
One of the most powerful storms to hit inland areas led to the closure of thousands of schools across western, central and southern Scotland, and the shutdown of almost all public buildings, including sports centres, concert halls and libraries, in cities such as Glasgow and Edinburgh.
At one stage, more than 60 train passengers were stranded on the West Highland line after it was closed down near Crianlarich, north of Loch Lomond. A rescue train was sent from Glasgow to take them off the train. The gales appeared to cause a fire in one wind turbine in Ardrossan, Ayrshire, as its blades were ripped off by the gusts.
The Met Office issued a red warning for central Scotland after air pressure across the Atlantic plunged late on Wednesday;
it is thought to be the first time the Met Office has issued such a warning to "take action" for high winds rather than flooding or snow.
The phenomenon is known to meteorologists as a "weather bomb" but a Met Office spokesman said it was officially described as an "explosive deepening", which is caused when atmospheric pressure drops by 24 millibars or more in 24 hours. In Thursday's storm, air pressure fell by 44mb.