Once considered to be once-in-100-year events, giant dust storms are pounding the U.S. state of Arizona. In a summer of excessive heat and extreme drought, this is not good news. Since June, five dust storms have plagued Arizona's famous valley area. On July 29, Phoenix looked more like Saharan Africa than the well-manicured American Southwest. A massive dust cloud,
referred to as a haboob
- an Arabic word meaning strong wind - blanketed the metropolitan area. The cloud was 2,000 feet tall and nearly 60 miles wide.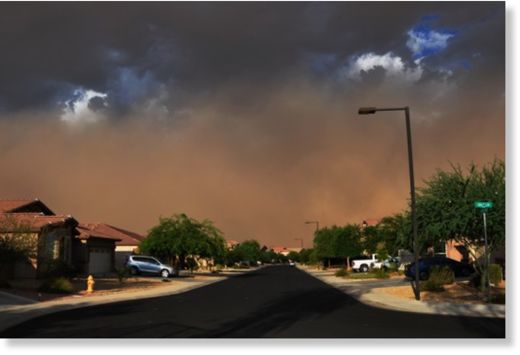 Although not the largest dust storm to hit the area, tree limbs and power poles were snapped, causing 9,000 homes to lose power. The Sky Harbor Airport was shut down for 20 minutes.
These
huge dust storms form during the monsoon season
that runs from June until the end of September. They are so destructive because of the fine dust particles that manage to permeate everywhere during the storm.
According to experts, these storms are becoming more frequent. It is not just the big storms that pose problems. Phoenix experienced three dust storms in a row the last week of July - which is considered very rare. USA Today stated: "This means more deadly accidents, more harmful pollution and more
health
problems for people breathing in the irritating dust particles."