From casual violence to genocide, acts of cruelty can be traced back to how the perpetrator identifies with other people, argues psychologist Simon Baron-Cohen. Is he right?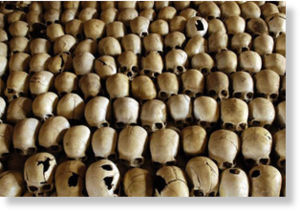 Lucy Adeniji - an evangelical Christian and author of two books on childcare - trafficked two girls and a 21-year-old woman from Nigeria to work as slaves in her east London home. She made them toil for 21 hours a day and tortured them if they displeased her. The youngest girl was 11 years old.
Sentencing her to 11-and-a-half years in prison last month, Judge Simon Oliver said: "You are an evil woman. I have no doubt you have ruined these two girls' lives. They will suffer from the consequences of the behaviour you meted out to them for the rest of their lives."
Most people would probably agree with Judge Oliver's description of Adeniji as evil, but Simon Baron-Cohen, professor of developmental psychopathology at the University of Cambridge, would not be one of them. In his latest book,
Zero Degrees of Empathy: A new theory of human cruelty
, Baron-Cohen, argues that the term evil is unscientific and unhelpful. "Sometimes the term evil is used as a way to stop an inquiry," Baron-Cohen tells me. "'This person did it because they're evil' - as if that were an explanation."