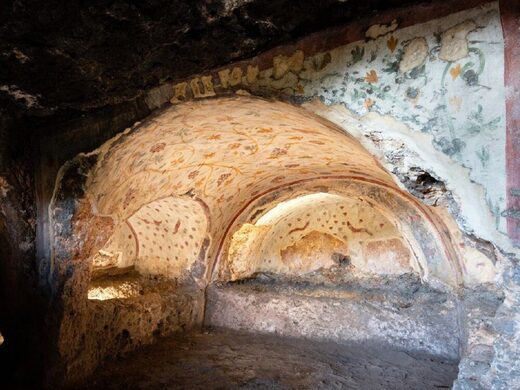 Excavations at
Blaundos
in Uşak, Turkey, have revealed 400 rock-cut tombs dated to 1,800 years ago,
when the ancient city was under Roman control. Many of the tombs are decorated with images of vine branches, bunches of grapes, flowers, animals and mythological figures
, the state-run
Anadolu Agency
(AA) reports.
Blaundos was located atop a hill and surrounded by a canyon that offered protection from attackers. The tombs were carved into the steep sides of the canyon.
"There are
arched sarcophagi carved into the bedrock in front of the walls of each room,"
expedition leader
Birol Can
, an archaeologist at Uşak University, tells AA. "Apart from these,
places that are thought to be used for funeral ceremonies were also found inside the rock tombs. The main door of the tombs was closed with a marble door and reopened during burial or ceremony times in the past."