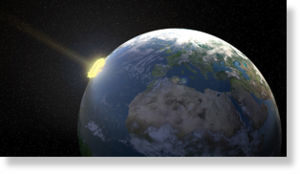 With all the rumblings about 'Disclosure' going on all around, I can't help but wonder why those who are interested in this topic seem to be missing the biggest cover-up of all: cometary/asteroid disruptors/destroyers of history.
Destroying history means, of course, destroying large segments of the human population who pass history on to their offspring. When you find a blank spot in history, a discontinuity, you can pretty well figure out that something really awful must have happened.
I've recently been wading through the complete works of Anatoly Fomenko. Those of you who have read my book
The Secret History of the World
know that I referred to him and his theories, but this was based on the available articles about it in English at the time. I've now been gifted with volumes 1 through 4 of his 7 volume work, along with the images from the final three volumes which are still being translated. It's a real revelation.