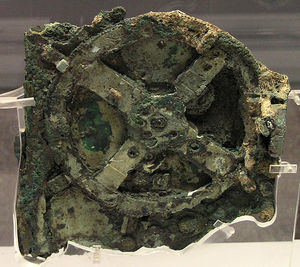 It's known as the
Antikythera mechanism
, a metal gear driven device found over a century ago on a sunken Roman ship, near the island of Antikythera, that for just as many years has had scientists analyzing, scratching their heads and offering suggestions as to its purpose.
Some have called the device the first analog computer; other's the first mechanical computing device. Either way, the device very clearly demonstrates that the Greeks of 150 to 100 BCE knew far more about gears and calculating machines than had been thought possible just a decade or so ago.
After careful analysis with an x-ray tomography machine which allowed the device to be seen as a series of slices that could then be used to see all the way through the mechanism slice by slice (as is done with the same machine when analyzing organs inside a living human being) researchers, particularly Michael Wright, now of Imperial College, London, have come to believe they have almost a full understanding of what the machines was built to do; and that, was to calculate the position of celestial bodies.