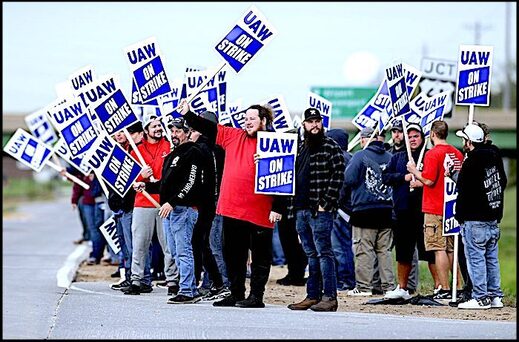 More than 10,000 John Deere workers were on the picket line Thursday after their union was unable to hammer out a new contract with management of the tractor company.
Workers at 14 Deere & Co. locations made good on their vow to go on strike at the stroke of midnight after "the company failed to present an agreement that met our members' demands and needs,"
The United Auto Workers union said in
statement
. "Our members at John Deere strike for the ability to earn a decent living, retire with dignity and establish fair work rules," said
Chuck Browning
, vice president and director of the UAW's Agricultural Implement Department.
Union workers overwhelmingly rejected a contract offer this week that would have delivered 5 percent raises to some workers and 6 percent to others.
Now, the UAW said, workers will picket Deere around the clock until the two sides reach a contract. The union will provide members $275 a week in strike pay until the standoff is over.
This is the first major strike in 35 years at John Deere,
which is known for its iconic green and yellow farm equipment. And workers, many of whom have been toiling extra hours for months because of pandemic-related worker shortages, say they are fed up.