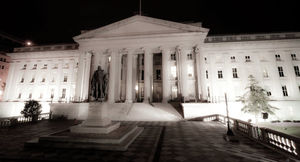 Twenty-two banks were sued in federal court in the first nationwide class-action lawsuit alleging a conspiracy to manipulate Treasury auctions at the expense of investors and borrowers.
A complaint was filed by the State-Boston Retirement System, the pension fund for Boston public employees. It was directed against
Bank of America's Merrill Lynch unit, Citigroup, Credit Suisse, Deutsche Bank, Goldman Sachs, HSBC, JPMorgan Chase, UBS, and 14 other defendants.
As primary dealers, these banks are authorized to transact directly with the U.S. Treasury and they serve as market makers in the second market.
According to the complaint filed in U.S. District Court in New York, bank officials used chat rooms, instant messages and other means of communication to swap customers' confidential information and develop trading strategies in the roughly $12.5 Trillion Treasury market.
The State-Boston Retirement System argues that these tactics violated anti-trust laws by allowing banks to inflate prices on Treasurys they sold to investors in the pre-auction "when issued" market, and deflate prices when they bought Treasurys to cover their pre-auction sales.