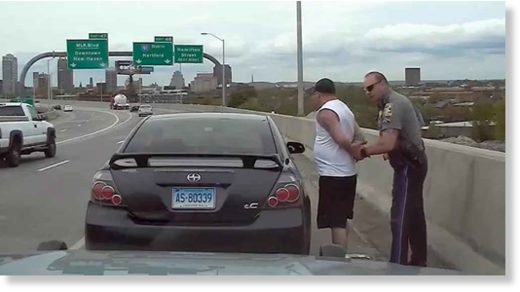 A Connecticut state trooper has been placed on administrative leave in connection to a May 18 traffic stop after a hidden camera recording of the scene in question showed the trooper exhibiting "disturbing" behavior toward a man, according to the state police.
While police officers are trained to de-escalate situations, Connecticut State Trooper Matthew Spina exhibited limited knowledge of the tactic during a potentially career-changing traffic stop at 1:45 p.m. local time on Monday in the town of Westbrook.
Within the first several seconds of the footage, Spina is overheard reprimanding a driver after the man inquires about why the officer was following dangerously close to another motorist on Connecticut's I-95. While Spina is clearly annoyed by the line of questioning, he tells the man "buh-bye," but then doubles back to demand the man hand over marijuana that is presumably in plain view.
The scene quickly escalates after the man challenges the order and claims he has a medical marijuana license - which
does exist in the state of Connecticut
, but the ingestion of the substance
remains outlawed
in moving vehicles.
It's not clear whether the driver was actively using the marijuana referenced by Spina.