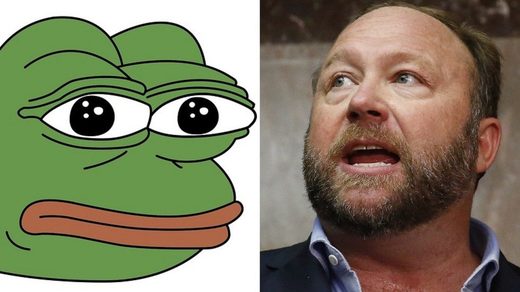 A Pepe the Frog copyright infringement claim filed against Infowars will proceed to trial, a California federal judge ruled Thursday after being unconvinced by motions argued by either side.
Matt Furie, who created the cartoon frog that became an internet meme and was co-opted by the far right, sued InfoWars for selling a poster of Pepe the Frog depicted alongside Milo Yiannopoulos, InfoWars founder Alex Jones and President Donald Trump. The posters sold for $29.95 apiece and generated gross revenues of over $31,000, the judge's ruling said.
District Judge Michael Fitzgerald
ruled
that InfoWars' did not provide evidence to back up its argument that Furie's frog was based on another amphibian from an Argentinian cartoon, El Sapo Pepe. He said Furie having access to the internet was not enough to prove he would have been aware of the Argentinian cartoon.
However, the judge said Furie's comments about his ownership of the frog are disputed enough to go to trial, ruling that a jury should determine whether the frog featured in the poster was Pepe or not.