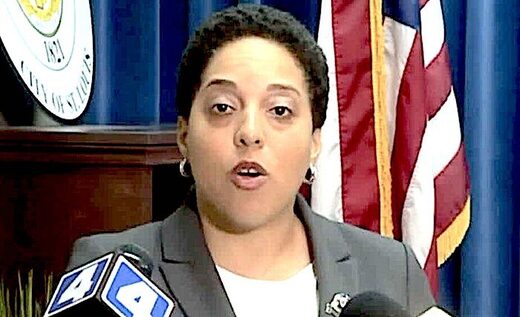 Murder charges against an accused killer were dropped by a St. Louis judge on July 14 after a prosecutor from St. Louis Circuit Attorney's office failed to show.
That prosecutor never showed up to court hearings in May, June, and again on July 14 because she was on maternity leave,
according to
Fox 2
.
Two other murder cases were dismissed last week because of unprepared or absent St. Louis City prosecutors from the office of discredited Circuit Attorney Kim Gardner.
Fox 2
's legal expert Attorney Chet Pleban said that using an attorney away on maternity leave may have been a tactic to postpone having to try that case:
"Clearly there is a problem with her internal management system that needs a quick fix, someway, somehow. But it is inexcusable that you would have three continuances, three times that she doesn't show up for a murder case."
More than 90 prosecutors have left the circuit attorney's office since Gardner took over in 2017,
according to
Fox 2
.
"Some of those were career prosecutors and they had spent their lives prosecuting murder cases, they leave the office, you replace those with younger inexperienced lawyers. The inexperience of that particular individual is going to be a problem with getting a conviction."
Judge Jason Sengheiser dropped the murder charges against defendant Brandon Campbell because he has the right to a speedy tria
l.
Campbell was charged with murder back in December. Pleban said Campbell is also entitled to discovery, which is all of the evidence the prosecutors are going to use to convict him. As of May, the defense lawyer did not even have the discovery evidence due to, again, the prosecutor assigned to the case being on maternity leave.
Pleban said:
"I don't know what the problem is with people leaving that office, career prosecutors. So you've got to fix it with competent people coming in to replace the people that left. Don't know how she's going to do that."
Gardner stands accused of dereliction of duty by the local police force who've had issues with the
Soros-backed prosecutor since day one.
The list has grown to include members of the public, Gardner's former employees, and a circuit court judge,
the
Washington Examiner
reported
.
The Missouri Supreme Court intended to uphold a ruling that
barred Gardner
from being involved with the case against the firearms-brandishing McCloskeys.
The reasoning for the decision stemmed from the fact that
Gardner demonstrated a particular bias in favor of the Black Lives Matter movement. A fundraising email from Gardner accused both former President Donald Trump and Governor Mike Parson as "fighting for the two who pointed guns at citizens during the Black Lives Matter protests."
The appellate argument was over whether or not Gardner was responding to critics or she took a particular stake in the public eye.
Gardner is the first black woman to be elected St. Louis's circuit attorney. She campaigned on progressive changes and did flashy interviews on
60 Minutes
and
Nightline.
She made headlines when she sued the city, its police union, and five others in 2020 for what she called a racist effort to block her reform agenda.