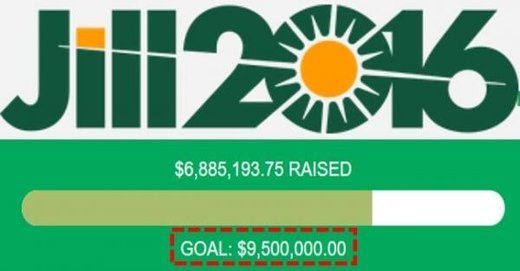 After weeks of debate and theorizing as to why Jill Stein suddenly felt compelled to back Hillary Clinton and force recounts in three states Trump won by low margins, the truth may finally be surfacing.
Jill Stein started her recount campaign with a total goal of $2.5 million on November 24th. Stein then increased her fundraising target $7.0 million.
Funds started to come in. Emboldened by her "success", Stein decided raise the "goal" to $9.5 million.
Stein attributed the cash increase to "higher costs". Some might say this entire recount business is as simple as getting one last chance at cashing in on what was a super-charged election campaign.
Zerohedge reports
...
That said, disaffected Hillary supporters all over the country have seemingly caught on to the Jill Stein fundraising scam. After donations poured into her recount effort from depressed Hillary voters who were briefly given renewed hope of a shot at the White House, America's snowflakes have seemingly caught on to Stein's fundraising scam as donations have all but ceased in recent days.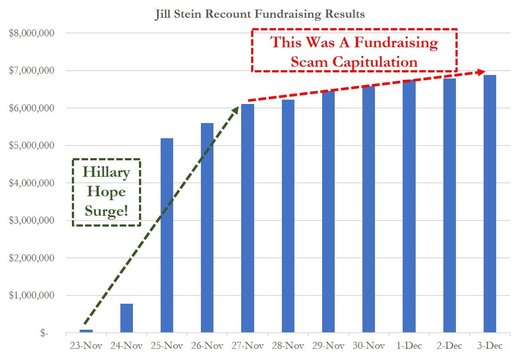 Stein posted this video message to help
con
convince people to keep donating.
Meanwhile, as Stein begs for for money, the
Green Party is abandoning its Pennsylvania recount backing.
CBS reports
...
Green Party-backed voters dropped a court case Saturday night that had sought to force a statewide recount of Pennsylvania's Nov. 8 presidential election, won by Republican Donald Trump, in what Green Party presidential candidate Jill Stein had framed as an effort to explore whether voting machines and systems had been hacked and the election result manipulated.

The decision came two days before a court hearing was scheduled in the case. Saturday's court filing to withdraw the case said the Green Party-backed voters who filed the case "are regular citizens of ordinary means" and cannot afford the $1 million bond ordered by the court by 5 p.m. Monday. However, Green Party-backed efforts to force recounts and analyze election software in scattered precincts were continuing.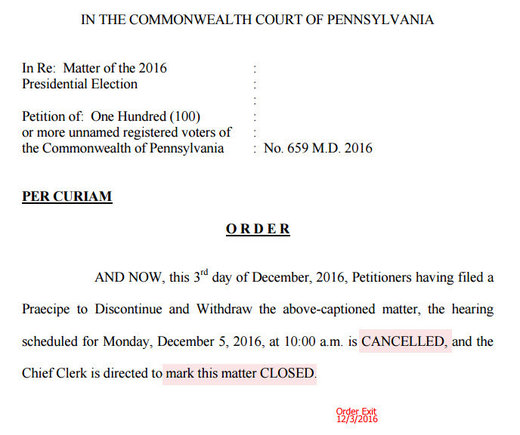 Still looking to top up just a bit more on her crowdfunding campaign,
Stein is planning to defy the announcement about the Pennsylvania recount on Monday, outside the Trump Tower in New York.
"The judge's outrageous demand that voters pay such an exorbitant figure is a shameful, unacceptable barrier to democratic participation."

"This is yet another sign that Pennsylvania's antiquated election law is stacked against voters. By demanding a $1 million bond from voters yesterday, the court made clear it has no interest in giving a fair hearing to these voters' legitimate concerns over the accuracy, security and fairness of an election tainted by suspicion. No voter in America should be forced to pay thousands of dollars to know if her or his vote was counted. Still, the recount continues and we will fight to ensure the civil and voting rights of all citizens are protected. We look forward to announcing our next step on Monday and we will pursue every available remedy to ensure Pennsylvanians can trust what happened in this election."
The Pennsylvania GOP had this to say to Stein...
"The filing of a discontinuance of the Election Contest by Jill Stein's petitioners tonight is a recognition that their Election Contest was completely without merit, and meant solely for purposes to delay the Electoral College vote in Pennsylvania for President-Elect Trump...

Candidate Jill Stein's allegations created the false allusion that some unidentified foreign government hacked our state's voting systems when absolutely no such proof existed. We believe that she always knew that she had no such proof."
Zerohedge calls out
the final days of Stein's spot in the limelight, and her dubious funding campaign...
So did Stein really spend all the $6 million-plus she raised or was the decision made to save the scammed millions instead of pressing ahead with a futile unwarranted recount? (or did Soros run out of cash?)