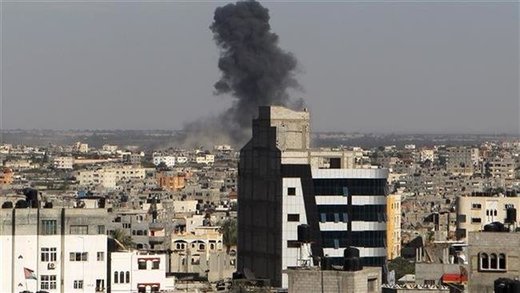 Israeli warplanes have launched several airstrikes on the Gaza Strip in yet another act of aggression against the besieged Palestinian coastal territory.
No casualties have yet been reported in the Saturday morning attacks that followed
reports of an alleged rocket launch from Gaza on a vacant kindergarten in the town of Sderot
in the occupied Palestinian territories.
The Israeli warplanes reportedly hit the Zeitoun district of Gaza City and a site belonging to the Palestinian resistance movement, Hamas.
The Israeli bombardment of Gaza came hours after Tel Aviv imposed a closure on the occupied West Bank city of al-Khalil (Hebron) and its surrounding areas following the killing of an Israeli man in a drive-by shooting there. Earlier on Friday, Israeli forces shot dead a 27-year-old Palestinian woman, identified as Sarah Tarayra, after she allegedly attempted to carry out a stabbing attack near the revered Muslim religious monument of the Ibrahimi Mosque in the city.