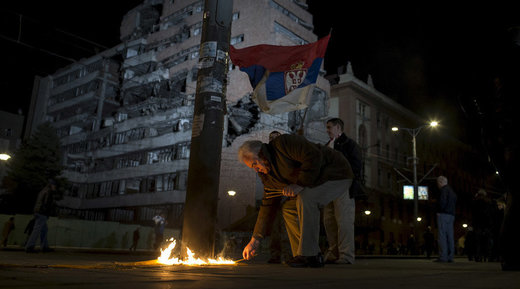 Kosovo is often cited by liberal interventionists as NATO's success story and now a reason for attacking Syria.
However, the ongoing lawlessness in the country shows nothing could be further from the truth.
In 1999, NATO bombed Yugoslavia for 78 days, culminating in the withdrawal of Yugoslav troops from the Serbian province of Kosovo. Tens of thousands were killed or maimed by the airstrikes, and Kosovo was carved out as a NATO statelet under the control of UNMIK (the United Nations Mission in Kosovo) in alliance with its local quislings the Kosovo Liberation Army (the KLA).
Last month's parliamentary debate on British airstrikes in Syria witnessed several MPs citing the operation as a great success. Labour MP Ivan Lewis was "proud of the difficult choices that we made" in Kosovo and elsewhere, which he claimed "saved hundreds of thousands of lives".

Comment: So NATO makes alliances with and establishes local radical groups, goes in and bombs the country, ongoing lawlessness and chaos ensues, and they trumpet this to the public as a success. It's almost as if they repeat the same process over and over and nobody ever notices.


Kosovo was particularly held up by those supporting British military action in Syria as an example of how airstrikes alone, without support from ground forces, can be victorious. Mocking those who argued that "coalition action which rests almost wholly on bombing...will have little effect", Margaret Beckett responded "well, tell that to the Kosovans, and do not forget that if there had not been any bombing in Kosovo perhaps 1 million Albanian Muslim refugees would be seeking refuge in Europe."