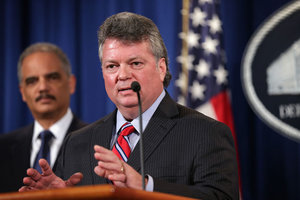 Mississippi Attorney General Jim Hood is sparring with Google once more.
Last year, Hood and Google
wound down a court dispute
over Hood's investigation into how Google handles certain kinds of online content, from illegal drug ads to pirated movies. E-mails from the 2014 Sony hack showed that Hood's investigation was spurred on, in part, by
lobbyists from the Motion Picture Association of America
.
Now Hood has a new bone to pick with the search giant. Yesterday, Hood filed a
lawsuit (PDF)
against Google in Lowndes County Chancery Court, saying that the company is gathering personal data on students who use Google's G Suite for Education, (previously called Google Apps for Education).
In a
statement
, Hood said that "due to the multitude of unclear statements provided by Google," his investigators don't know exactly what information is being collected.
"Through this lawsuit, we want to know the extent of Google's data mining and marketing of student information to third parties," Hood said. "I don't think there could be any motivation other than greed for a company to deliberately keep secret how it collects and uses student information."