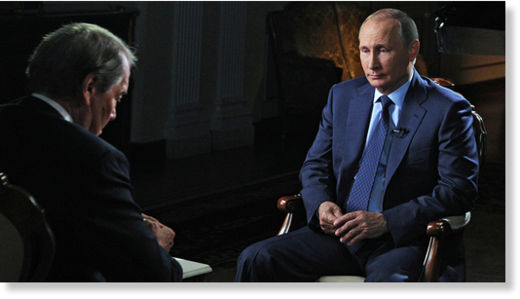 Russia has no "imperial ambitions," and the image of "bare-chested man on horseback" is not meant to cultivate the image of strength, but rather to promote a healthy lifestyle, Russia's leader Vladimir Putin told CBS's '60 Minutes.'
"We have no obsession that Russia must be a superpower. The only thing we do is protecting our vital interests," Putin told CBS's Charlie Rose. "Nuclear weapons and other weapons are the means to protect our sovereignty and legitimate interests, not the means to behave aggressively or to fulfill some non-existent imperial ambitions."
Russia's president met with the American journalist in the state Novo-Ogaryovo residence near Moscow. While thanking Putin for inviting "us to your home" on a "lovely Russian afternoon," the reporter touched on the president's love for his country's culture and history.
"Moscow has fewer of the major sights and landmarks compared to St. Petersburg, but they are all of exceptional significance to Russia," Putin, whose native city is Russia's "northern capital," said. "I am sure that the vast majority of Russian citizens have great love and respect for their motherland," Russia's leader added, saying that the national culture and history are worth being proud of.